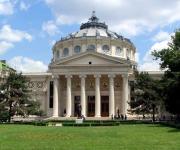 A second IMF mission will review Romania's progress in achieving benchmarks linked to a major aid package, from October 28 to November 9.
The Fund's Romania mission chief, Jeffrey Franks, said on Thursday: "Due to ongoing political developments, a follow-up mission may be necessary to continue discussions after a new government has been formed."
The mission will assess Romania's recent economic performance and discuss objectives for the coming year and the means to achieve them. Romania's incoming government must bring the budget deficit down to below 6 per cent of GDP in 2010. The IMF agreed in August to allow Bucharest to run a budget deficit for this year of 7.3 per cent of GDP.
The IMF loan is part of a multilateral package which will total up to 20 billion euros and is conditioned on the implementation of a comprehensive economic reform programme.