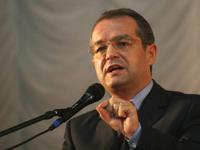 Romania's interim Prime Minister Emil Boc has offered his support to his designated replacement, Lucian Croitoru, pledging to help him build a new government.
Despite the offer, the final decision regarding the structure of a rejigged cabinet belongs entirely to Croitoru, the outgoing premier declared.
Boc's Democratic Lliberals announced that Croitoru will present his ministerial selections to the parliament either today (Friday) or on Monday morning. It is believed that he will seek to form a technocrat cabinet devoid of politicians.
The make-up and intended programme of the new government will then be analysed by the two chambers of the parliament, which will decide whether to give Croitoru their support in a confidence vote.
This appears impossible, given that opposition parties are steadfast in their support for their own joint candidate, Klaus Johannis.
Boc's minority centre-right government collapsed on October 12, after losing a confidence vote in parliament. The vote was carried by 258 votes to 176.
The current political crisis comes as the country prepares for a presidential election, scheduled for November 22.