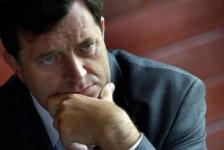 Republika Srpska Premier Milorad Dodik has sharply criticised recent negotiations initiated by senior EU and US officials and called for new talks among local leaders without the presence of international officials.
The "Butmir talks were an unnecessary adventure," local media quoted Dodik as saying on Friday.
The leader of the Serb-dominated Bosnain entity sharply criticised the constitutional reform package proposed by US Deputy Secretary of State James Steinberg and Swedish Foreign Minister Carl Bildt – the latter on behalf of the EU.
The proposal featured a set of requirements and incentives aimed at overcoming Bosnia's political impasse. However, talks on the initiative, held at Butmir military camp near Sarajevo on October 9, 20 and 21, failed to produce any concrete results.
Bosnian Serb leaders rejected the EU-US proposal even before the start of the Butmir talks, Dodik noted. He added that the proposal could not serve as the basis for putative future talks. The initiative was also rejected by most Bosnian Croat and Bosniak (Bosnian Muslim) leaders.
"For me, the Butmir process does not exist," Dodik said.
He also told reporters that, in the next ten days, he will look to convene a meeting of all the main Bosnian parties represented in the state and entity parliaments, hoping that local leaders – in the absence of international officials – would be able to resolve the country's political deadlock.
Comments made by Dodik and other local leaders stand in stark contrast to the moderately optimistic statements of Steinberg and Bildt. Immediately after the meeting, the two officials said that local leaders were much closer to a compromise then their public statements would suggest.
Bildt and Steinberg said that negotiations will continue on a technical level until mid-November when the Peace Implementation Council, PIC – the body that oversees the Bosnian peace process – meets to decide on the closure of the Office of the High Representative, OHR.
Some western diplomats have expressed optimism that Bosnian leaders could reach a compromise in the next few days.
However, the Serb member of the Bosnian Presidency, Nebojsa Radmanovic, told reporters on Friday that Bildt and Steinberg were fooled by some western ambassadors and OHR staff into believing that an agreement could be finalised.
Sarajevo daily SAN reports that Dodik has already decided to organise a referendum on the independence of Republika Srpska. According to the newspaper's unnamed sources, Dodik will announce the entity plebiscite on December 18, immediately after the PIC meeting.
Balkan Insight could not ndependently confirm this claim. Nevertheless, Dodik has repeatedly threatened to make this move. Just before the beginning of the second round of the Butmir talks, on October 20, Dodik pledged to organise a referendum if western nations tried to pressure Bosnian Serbs into accepting the proposed package. He also asked Bildt and Steinberg to include the right for entities to organise referendums in proposed constitutional changes.
Many local officials and experts have warned in the past that if Republika Srpska tries to secede from Bosnia and Herzegovina it would, at best, create a long-term political and diplomatic problem and, at worst, could even trigger violence.
While media speculation on the possible secession of Republika Srpska has stoked extant public concerns, Thursday's visit of Serbian Foreign Minister Vuk Jeremic to Sarajevo and Banja Luka offered a glimpse of hope.
During his visit, Jeremic met a number of local leaders from Bosnia's three main ethnic groups. He stressed that Serbia supports the territorial and constitutional integrity of Bosnia and Herzegovina, adding that Belgrade is interested in improving relations not only with Bosnian Serb but with all Bosnian leaders.