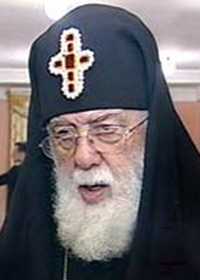 Azerbaijani Ambassador to Georgia, Namik Aliyev, met with the Catholicos-Patriarch of All Georgia Ilia II, the press-release of the Azerbaijani Embassy to Tbilisi said.
The sides discussed issues of further development of bilateral cooperation between two faiths, participation of Ilia II in celebration of Head of the Caucasus Muslims Spiritual Board Haji Allahshukur Pashazadeh's jubilee in Baku, as well as the facts of infringement of religious rights of Azerbaijani people in Kvemo Kartli, occurred from September 15 and continuing up to now, the press-release said.
The meeting was held in very warm and friendly atmosphere. It was stressed that the Patriarch will participate in Baku's celebrations, the press-release said.
During the meeting both sides stressed that Azerbaijan and Georgia are tolerant countries, inhabited by people of different nationalities and confessions. Today, peace in the Caucasus significantly depends on peace in Georgia and Azerbaijan. There are forces trying to destroy fragile peace in the South Caucasus, relations between two fraternal peoples, to oppose Islam and Christianity. It is contrary to the mentality of Azerbaijanis and Georgians who are tolerant in their essence.
The patriarch and the ambassador condemned any religious intolerance and stated that there are equal places for both Christianity and Islam in the South Caucasus. They called on all peace-loving and healthy forces of Georgia and Azerbaijan to support fragile peace in South Caucasus. Reaction of the Georgian authorities is important to prevent such provocations.
According to the press-release, Azerbaijani ambassador and the patriarch expressed confidence that the corresponding organizations will be more determined to resist any attempts to destabilize the political situation in Georgia, violation of religious rights of citizens, for sake of peace in the the South Caucasus in future.