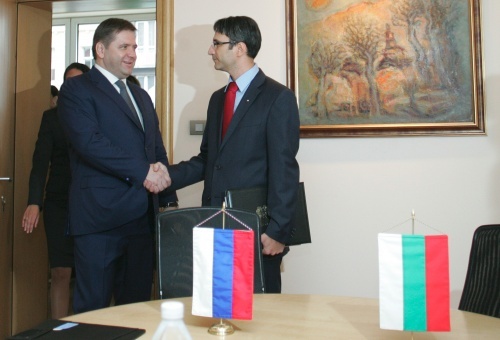 Russia has urged Bulgaria to decide on a political approach regarding investment for the Belene Nuclear Power Plant as soon as possible, Bulgaria's Energy Minister Traicho Traikov stated Friday.
Economic, Energy and Tourism Minister Traikov continued that for Bulgaria, however "the economic approach is more important".
Traikov said that "No final estimate as to what percentage of the plant will be owned by the State has been decided." He added, "If it comes to a point where Bulgaria must seek investment for the entire project, things are quite different, since there is doubt about the participation of RWE. Options have been discussed, according to which Russia holds a large share of the plant, but we must consider all possibilities."
Traikov was speaking after meeting Russian Energy Minister, Sergei Shmatko, on Thursday.
In the meeting Shmatko also informed Traikov that the South Stream project would involve the pipeline going through the Turkish waters of the Black Sea before entering Bulgaria. Shmatko added that no other changes to the South Stream had been discussed regarding Bulgaria.
Traikov concluded that the faster the South Stream project starts the better, he added that both Nabucco and the South Stream pipelines will pass through Bulgaria and that both were discussed with Shmatko, but "Belene NPP was the main issue in all discussions regarding Russia-Bulgaria joint energy projects."