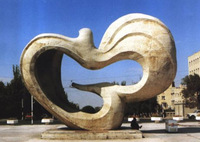 A delegation of Azerbaijan's Sumgayit city will visit Georgia.
Upon the invitation of the Mayor of the Rustavi city, Mamuka Chikovani, the delegation will visit the Rustavi city on Oct. 30-Nov. 2, the Sumgayit City Administration told Trend News on Oct 29. During the visit, the delegation will meet with the leadership of the city and discuss bilateral relations, as well as attend the festival to be held on the occasion of the Rustavi City Day.
The cities of Sumgayit and Rustavi have 50-year cooperation relations. There are heavy industry enterprises, giant metallurgical and chemical plants in the cities which were founded after the World War II. In 2007, the delegation of the Kvemo-Kartli region which is the centre of the Rustavi city visited Azerbaijan and signed an agreement to restore fraternal relations between the two cities. This agreement triggered a new stage in the development of the bilateral relations.