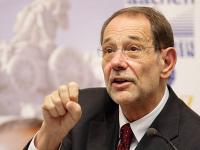 EU foreign policy chief Javier Solana opposes the holding of referendum on any putative agreement to end the Skopje-Athens name row.
"I don't think [in] parliamentary democracies the referendum is the best solution," Solana said. "Look at our experience," he added, referring to the complications the Irish referenda caused for the ratification of the Lisbon Treaty.
Solana told visiting Macedonian Prime Minister Nikola Gruevski that Brussels seeks the resolution of the dispute, and "the sooner the better".
"I know the Greek prime minister very well and I am sure that both Nikola [Gruevski] and [PM Jorgos] Papandreou will do their outmost to resolve it", Solana said.
The previous government in Greece blocked every Macedonian Euro-Atlantic integration process, pending a resolution on the name issue. The Kostas Karamnlis government also blocked NATO's issuance of an invitation to Macedonia to become a full pact membership.
The election of the Papandreou government has raised hopes for a possible breakthrough. The negotiations on the name dispute are ongoing under UN auspices.
Gruevski also expressed the determination of his government to find a solution to the dispute.
"As with all solutions, this one […] requires two sides to come to it and I hope the new government in Athens will take a serious approach to it and will make it a priority, with the aim of achieving a solution," Gruevski said, arguing that the policy of blockades has proven unsuccessful.
He said that this process also requires a lot of energy, work and commitment but promised that his government "will give the outmost to find a solution on the name issue".