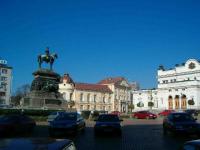 Foreign direct investments in Bulgaria in 2009 will be less than half of the 6.5 billion euro the country attracted in 2008, data released by the central bank so far indicate.
Preliminary data show that in January-August 2009 Bulgaria attracted 1.95 billion euro, 2.28 billion euro less than in the same period in 2008.
Georgi Ganev, Chair of the Bulgarian Macroeconomic Association, predicts that foreign investments in Bulgaria in 2009 will total three billion euro. The head of the InvestBulgaria Agency, Stoyan Stalev, believes the figure could go up to between 3.5 and four billion euro, the novotine news service reports.
Georgi Prohaski, head of the Center for Economic Development, has said that 2010 would be worse for Bulgaria than 2009 in terms of foreign direct investment.
The Netherlands was the largest foreign investor in Bulgaira in first seven months of 2009. It is followed by Romania.
In 1996-2008, Austria was the largest foreign investor in Bulgaria with total investments worth 5.36 billion euro, amounting to 16 per cent of total overseas investors, followed by the Netherlands, with 4.07 billion euro invested, and Greece with 2.99 billion euro.
In that period, Bulgaria's real estate sector attracted the largest volume of foreign investments, with the sector receiving 22 per cent . Financial services came second.