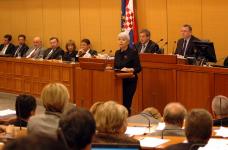 The Croatian parliament Monday afternoon voted to allow the country's Prime Minister Jadranka Kosor sign a key border deal with neighboring Slovenia that will unblock the country's EU accession talks. 
The two countries failed for years to resolve their dispute concerning their Adriatic border, which was left unmarked since the 1991 breakup of Yugoslavia, and prompted EU member Slovenia to block Croatia's EU talks this year.
The two countries called for international arbitration to help them draw the border and a draft deal was reached, prompting Slovenia to lift its blockade and allow Croatia to resume its accession talks on 2 October.
"I have the backing of the parliament to sign the deal. I am ready and waiting for the Slovenian Prime Minister," Kosor told media after the voting.
The Croatian and Slovenian prime ministers are now scheduled to sign the deal in Sweden, which holds the rotating EU presidency. Kosor was not sure whether the signing will take place on Wednesday.
Slovenia holds some 25 kilometers of the Adriatic coastline and wants to secure direct sea access, which is currently blocked by what Croatia sees as its own territory. Under the current deal Croatia agreed to offer Slovenia free transit.
Croatian nationalists and leftists strongly opposed the deal, saying it favored Slovenia and effectively gives Croatian territory to that country.
Slovenian opponents to the deal fear that international arbitrage could dismiss Slovenia's claim altogether.