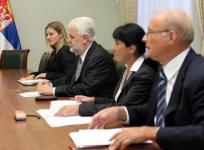 Serbian Finance Minister Diana Dragutinovic announced that talks with the International Monetary Fund, IMF, for the country's second and third tranches of the IMF loan agreed to earlier this year, have been completed successfully.
Speaking at a press conference, Dragutinovic said that an agreement has been reached to extend the freezing of wages and pensions into 2010. She said these measures are expected to bring the largest amount of savings.
According to broadcaster RTS, the head of the IMF's mission for Serbia, Albert Jaeger, believes that the Serbian government has achieved a balanced agreement. The challenge of the Serbian authorities is to apply the agreement, as he said.
Jaeger also pointed out that the agreement needs to be approved by the Executive Board of IMF, whose meeting is scheduled for the end of December.
Official negotiations between the IMF delegation and Serbian government on the second and third tranches of the IMF loan agreement, worth roughly USD 2.9 billion (€1,9 billion), started on October 26.
Last Friday, the two delegations reached an agreement on Serbia's state budget for next year. It was agreed that there will be no increase in VAT and that the projected budget deficit will be 4 per cent of GDP, half a per centage point lower than for this year.
Dragutinovic also said that the beginning of pension reforms was agreed to start next year and that its effects will not be felt until 2020.