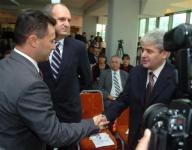 The leaders of Macedonia's two governing parties met Tuesday afternoon to discuss the burning name dispute with Greece.
Media speculate the meeting between Prime Minister and leader of the ruling VMRO-DPMNE party Nikola Gruevski and Ali Ahmeti, the head of the Democratic Union for Integration, DUI, the junior partner in the governing coalition, was prompted by recent statements by high ranking DUI officials that demanded a quick solution to the name row.
According to unnamed sources cited by the Dnevnik daily, Gruevski asked Ahmeti to stop putting pressure on him regarding this sensitive issue.
Opinion polls show that the Greek insistence that Macedonia should change its name is seen as a sensitive issue for the Macedonian majority, not by the Albanian minority, whose priority is EU and NATO integration first and foremost.
According to Alsat-M, TV Ahmeti reiterated that DUI wants to see the name dispute solved by 7 December, when the EU Council is expected to set a date for start of Macedonia's EU accession talks.
Greece threatens to block this move if there is no deal.
On Monday, DUI's deputy president and deputy parliament speaker, Rafiz Aliti said that if the government does not solve the row by December, "Albanians will integrate in EU and NATO with or without the Macedonians".
Last year Athens blocked Skopje's NATO accession claiming that Skopje's constitutional name, Republic of Macedonia, implies Skopje's territorial claims towards its own northern province that is also called Macedonia.
International pressure for reaching a compromise started to mount last month when the European Commission recommended that Macedonia start EU accession talks, but left it to the EU Council to set a start date.