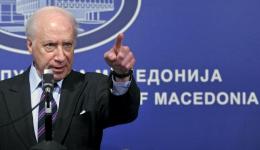 The UN mediator in the Athens-Skopje "name" talks, Matthew Nimetz is summoning both sides to a fresh round of talks from 16 to 22 November.
The mediator is in permanent contact with both sides to precise the date for the meeting in New York, the UN said.
The announcement comes after UN Secretary General Ban Ki-moon, while visiting Athens on Wednesday, noted that his personal envoy for the name talks was set to restart discussions on the matter, as soon as both parties were ready.
The UN chief expressed hope that both parties will come to a final solution to the dispute.
The name talks have been frozen for the past few months in the run up to the 4 October general election in Greece.
The new initiative comes at a time when both sides face increased international pressure to solve the issue before the December EU council meeting where Skopje hopes to get a date for start of its EU accession talks.
Greece, who is a long time EU member, says it will veto this move if there is no breakthrough by then.
"There is a moment of possibility and it won't last very long. Now is the time for settlement," Swedish Foreign Minister Carl Bildt said to Voice of America – Macedonian language program on Thursday urging for a swift compromise. At the moment Sweden holds the rotating EU Presidency.
A similar statement came last week from the EU Foreign Policy Chief, Javier Solana.
Last year, Athens blocked Skopje from entering NATO due to the unresolved row. Athens claims that Skopje's official name, Republic of Macedonia implies territorial claims towards its own northern province which is also called Macedonia.
Media speculate that some variations of the name Northern Macedonia, that would distinct the state from the Greek province is still on the table in the UN brokered talks.
In another step seen as a sign of good will, on Wednesday, Macedonian President Georgi Ivanov invited his Greek counterpart Karolos Papoulias to visit his country.