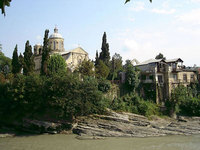 The EU monitoring mission (EUMM) must expand its activities in Georgia, mission head Hansjorg Habber said in an interview with Imedi television.
He said the issue of expanding the EU mission became more topical when the UN mission and OSCE mandates expired and they ceased their activities in Georgia.
After the closure of the missions, the lack of a peace element was clearly felt, Habber said.
"The EU determined the configuration and mandate of the mission," he added. "Diplomats from Brussels will visit Georgia to assess the work next week. We must adapt to new realities. I do not think that we need fundamental change, but the area needs to be expanded."
Representatives of all 27 EU member states will arrive in Georgia Nov. 12-14. They will meet with Georgian President Mikheil Saakashvili and MPs, and also will visit the occupied territories and meet with refugees.