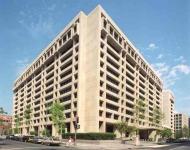 The International Monetary Fund, IMF, has delayed disbursing an aid tranche to Romania originally scheduled for next month and will resume talks on a standby loan agreement only when the country has a government.
"The IMF will come to Bucharest again as soon as there will be a legitimate government in Romania. Soon after, the third tranche of the loan should be disbursed," the IMF's mission head to Romania, Jeffrey Franks said during a press conference.
At the end of October, an IMF delegation began to review Romania's progress in achieving benchmarks linked to a 20-billion-euro international aid package.
During the visit, the IMF mission evaluated the country's recent economic performance and discussed with the authorities the economic objectives for the coming year, along with the policy measures and structural reforms the Fund requires the government to fulfill.
As part of the conditions for the further disbursement of the loan, the Fund is asking for the approval of a cost-cutting budget in the first part of December, or risk postponing a 1.5 billion dollar aid tranche. The fund is also asking for as the passage of a fiscal responsibility law by the end of year.
The aid is seen as crucial to Romania's bid to shore up its public finances in order to avert a deeper recession. The country is also dependent on the IMF loan to pay government worker salaries.
But political infighting ahead of the first round of presidential elections slated for 22 November has so far crushed attempts to form a new government, after former Prime Minister Emil Boc resigned last month.
President Traian Basescu on Friday nominated Liviu Negiota for Prime Minister, but political analysts doubt the opposition, which holds a majority in parliament, will approve his nomination. They do not expect a new government to be formed until after the second round of the presidential elections on 6 December.
Romania's economy is predicted to shrink by 7.5 – 8 per cent this year.