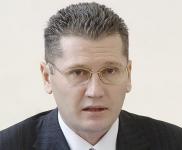 In a surprise move, Romanian President Traian Basescu on Friday nominated the mayor of a Bucharest district, Liviu Negoita, for the office of prime minister, once again rejecting the candidate proposed by the opposition parties.
Negoita, 47, is a politician and lawyer, member of center-right Democratic Liberal Party, PLD, and has been mayor of Bucharest's district number 3, the capital's most popolous district, since 2004.
"I've chosen Mr. Negoita as he is an experienced manager and also have the backing from the ruling party, PLD", said Traian Basescu in a press conference.
According to preliminary assessments, it appears unlikely that Negoita's candidacy will secure the necessary backing of the legislature as opposition parties, which hold around 65 per cent of parliamentary seats. Opposition parties have proposed Klaus Johannis, mayor of Sibiu, as their preferred candidate.
Another nomination from the President was rejected by the Parliament on Wednesday as the opposition parties voted against a proposed cabinet headed by economist Lucian Croitoru. The Parliament rejected Croitoru's
cabinet line-up with 250 votes in favour, and 189 against. He needed 236 votes to be approved.
Negiota's nomination is likely to further put into jeopardy implementation of reforms that are necessary in order for Romania to receive the next tranches of the IMF bail-out package the government negotiated earlier this year. As part of that package the government agreed to cut back spending and reign in the deficit. The loan is part of a multilateral package which will total up to 20 billion euros.