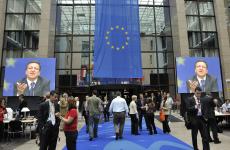 EU ambassadors proposed on Thursday to abolish the visa regime for citizens of Macedonia, Montenegro and Serbia as of 19 December this year instead of 1 January, 2010 as earlier proposed by the European Commission, media report.
Serbia's Beta news agency reports that this proposal, made by the EU's permanent representatives to the EU Council, must first be confirmed on 11 November at the session of the European Parliament, and then again at the end of the month at a meeting of either EU interior or foreign ministers.
The proposal for an early suspension of the Schengen visa regime for the three Western Balkan countries was reportedly made by Slovenia at Wednesday's meeting of the EU Council Ministers.
"In this way the citizens of these countries will have the opportunity to travel without visas to Schengen countries before Christmas and New Year," Slovenian Foreign Ministry said in a press release issued after the meeting.
EU Commissioner for Enlargement, Olli Rehn, said it was an important concession. "Since Christmas is approaching and that, during the holidays, it is important to show good will, I hope that good will be shown on this issue as well," broadcaster B92 quoted tke commissioner as saying.
"Of course, the decision is up to the Council of Ministers and member states to decide," Rehn added.
The European Parliament's rapporteur on visa issues, Tanja Fajon, told the Tanjug news agency that it is realistic to expect the agreement to materialize. "I think it is realistic that visas will be abolished on December 19, which makes me very happy. It would be great news for the citizens of Serbia, Macedonia and Montenegro," the agency quoted Fajon as saying.
While Macedonia fulfills all the necessary criteria, the final decision on whether to lift the visa regime for citizens of Serbia and Montenegro will have to wait until an expert group decided that the countries have met all necessary criteria, broadcaster RTS reports.