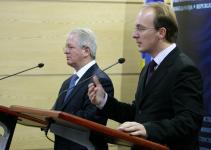 Macedonia and Kosovo will soon appoint ambassadors to their respective capitals, the foreign ministers of both countries said in a press conference in Skopje.
"Today's meeting opens a new page in Macedonia-Kosovo relations. I believe this will be of benefit not only for the two countries, but also for the development of regional stability and economic cooperation," Antonio Milososki, Macedonia's foreign minister said.
He stated that the issue of opening an embassy is no longer an issue of political will, but one of protocol and time, expecting the procedure to last between two to three months.
His counterpart Skender Hyseni, who is on his first official visit to Macedonia, assessed that the meeting in Skopje opened the possibility for fresh bilateral cooperation, whereas the partnership would serve as a positive regional model.
Both ministers said the meeting focused on intensifying cooperation, with special interest in energy, trade and police cooperation.
Hyseni's visit comes after both countries signed a mutual border agreement last month, after which Skopje and Prisitina voved to establish full diplomatic relations.
Macedonia recognised Kosovo's newly declared independence last year but conditioned the establishment of diplomatic relations with the marking of the border line.
Skopje's move caused bitterness in Serbia that sees Kosovo as its own province.