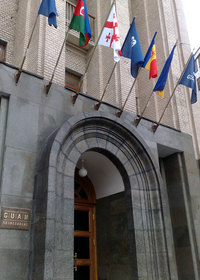 Georgia will host the fourth meeting of the GUAM Parliamentary Assembly (PA) to be held on Nov. 8-11. The meeting will be held at the Sheraton Metechi Palace Hotel, Tbilisi, the Georgian parliament said.
The GUAM PA will open its expanded meeting with participation of delegations of the Baltic Assembly and experts on Nov.9. The adoption of final documents and a joint press conference is expected to be held on Nov.10.
GUAM is a regional organization established in October 1997 by Georgia, Ukraine, Azerbaijan and Moldova (Uzbekistan also was a member of the organization in 1999 -2005). Name of the organization was formed with the first letters of the names of its member countries.