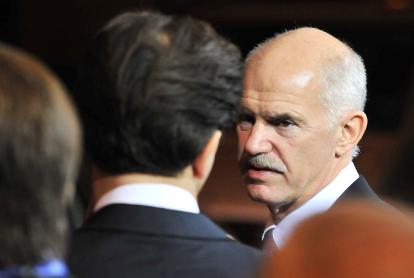 Greece will support any possible agreement that aims to resolve the longstanding dispute on Cyprus, the Greek prime minister has said.
Prime Minister George Papandreou, who is also in charge of the Greek Foreign Ministry, called on his European counterparts to work together on the Cyprus dispute in a statement made during the formal celebrations that marked the 20th anniversary of the Berlin Wall's falling earlier this week.
"As Greeks and Europeans, we should dismantle the wall that divides Cyprus. European freedom cannot accept the raising of walls or armies to resolve foreign disputes. This Europe is our role model and for this Europe and for this Cyprus we will fight," Papandreou said.
The Greek prime minister also held a meeting with U.S. Secretary of State Hillary Clinton and discussed several topics, including Turkish-Greek relations and the Cyprus issue, as well as the name dispute with Macedonia, Greek Foreign Ministry officials said.
The officials declined to give further details about the talks.