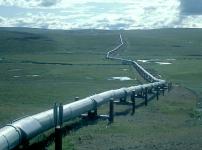 Bulgaria and Azerbaijan are expected to sign an agreement to cooperate on gas supplies Friday, as President Ilham Aliyev pays a working visit to Sofia at the invitation of his Bulgarian counterpart Georgi Parvanov.
Earlier the week Bulgaria's Minister of Economy, Energy, and Tourism, Traicho Traikov, announced that Bulgaria's state-owned gas operator Bulgartransgaz, a subsidiary of Bulgargaz, and the Azerbaijan state gas company GNKAR are going to set up a joint venture.
Traikov received authorization by the Council of Ministers to sign a cooperation memorandum for the setting up of the joint venture with the Energy Minister of Azerbaijan, who is going to be part of the delegation led by the Azerbaijan President to Sofia.
The Bulgaria-Azerbaijan joint company is going to explore the possibilities for delivering natural gas from Azerbaijan to Bulgaria, including finding supplies for the quota of natural gas that Bulgaria will be entitled to receive through the Nabucco gas transit pipeline, and for the transit of compressed natural gas with tankers through the Black Sea.
If the project is realized, Bulgaria will not have to participate in the construction of a liquefied natural gas terminal.
As a result of the January 2009 Russia-Ukraine gas crisis, the Bulgarian authorities considered pushing for the setting up of such a terminal in Greece or Turkey in order to diversify the country's gas supplies.