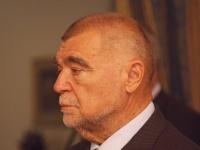 Croatian President Stjepan Mesic met Pope Benedict XVI for the first time on Thursday at the Vatican.
Mesic and Benedict XVI discussed the situation in the region around Croatia, Croatian-EU relations, the main challenges for the future and other factors that promote stability and strengthen peace.
Mesic said: "We discussed the Croatian-Slovene border dispute, and Benedict XVI wanted to hear what we thought about the recent dispute between Croatian and Slovene bishops on that issue.
"I told him politicians needed to negotiate and should not involve the people in their conflicts because Croatia and Slovenia are two friendly countries and it would be bad to make the problem even worse, especially when we have an agreement," Mesic added.
Both sides stressed the importance of promoting constructive dialogue between Croatian bishops and the government.
After the meting, Mesic told the media he had not hidden his disapproval of some Croatian clerics but had not had problems with the Vatican.
Mesic's visit to the Vatican came at the end of his second consecutive term as president.
He invited Benedict XVI to visit Croatia.
Nearly 85 per cent of Croats are Catholic.