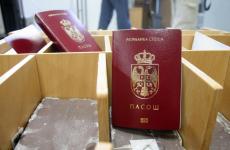 The spokesperson of Kosovo Police Service for the region of Gnjilane, Ismet Hasani, confirmed that Serbia and Montenegro nationals need a passport to enter Kosovo as of 12 November. 
In an interview with local TV station in the town of Presevo, Hasani said that his police force will permit people to enter the country without the relevant travel documents if they do not possess them. But he said that a valid passport will be obligatory for subsequent journeys to Kosovo.
Fonet news agency reports that the new administrative procedures have resulted in columns of cars, mostly belonging to Presevo residents, who have been waiting for hours on the border at Mucibabe to enter Kosovo.