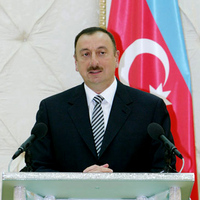 Following a ceremony of signing Azerbaijan-Bulgaria documents on Friday in Sophia, Presidents Ilham Aliyev of Azerbaijan and Georgi Parvanov of Bulgaria held a joint press conference.
Bulgaria President Parvanov noted the documents signed today elevated bilateral relations to a qualitatively new level. According to him, an active political dialogue exists between the two countries.
"We can see economic cooperation trends at the same time," said Georgi Parvanov, adding the two countries actively cooperate within international organizations including European and Euroatlantic institutions.
Bulgarian President noted Azerbaijan is Bulgaria`s closer partner in the energy sector. He noted "we are interested in transporting Azerbaijani gas to Bulgaria".
President Ilham Aliyev noted good results had been achieved during talks. Azerbaijani leader said bilateral relations are successfully developing. The Head of Azerbaijani state pointed out Bulgaria is a very important and friendly country for Azerbaijan.
President Ilham Aliyev stressed high-level political relations between the two countries positively impact on other fields as well. He added that Bulgaria plays a significant role in cooperation between European Union and Azerbaijan.
The Azerbaijani leader stressed Bulgaria has always supported Azerbaijan in the process of integration into Euro-Atlantic structures, adding Azerbaijan recently has joined the European Union`s Eastern Partnership Program.
The President expressed confidence that this program would allow to expand EU-Azerbaijan cooperation even more.
Touching upon the energy relations between the EU and Azerbaijan, President Ilham Aliyev said the importance of energy security matters has increased over the last years. He added "Azerbaijan contributes to settlement of these matters".
The Azerbaijani leader expressed assurance that gas cooperation between Bulgaria and Azerbaijan will be successful as well.
In conclusion, the Heads of States responded to questions of journalists.