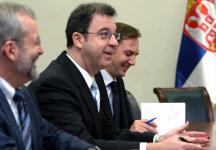 Media report that the Chief Prosecutor of the International Criminal Tribunal for the former Yugoslavia, ICTY, Serge Brammertz, is satisfied with the level of Serbia's cooperation with the Tribunal even though he has not stated that the country is fully cooperating.
Brammertz wrote in his regular report to the UN Security Council that he believes that the cooperation will continue and that it will result in the arrests of the remaining war crimes fugitives Ratko Mladic and Goran Hadzic.
Brammertz was in Belgrade two weeks ago meeting Serbian officials and gathering information for his forthcoming report on the country's cooperation that is supposed to be passed to the UN Security Council on 3 December.
The report is considered of crucial importance for Serbia's EU aspirations. The country's EU progress has been blocked by the Netherlands, whose government has blocked the unfreezing of a trade deal between Belgrade and EU before the two remaining fugitives are handed over to the Tribunal.
The ICTY Chief Prosecutor reportedly said that Prosecution was regularly informed on all the actions which have been undertaken by the Serbian National Council for Cooperation with the Hague Tribunal and the Action Team for locating and arresting fugitives.
Speaking at a debate last week on EU enlargement in the Dutch parliament, the country's Foreign Minister Maxime Verhagen suggested a softening in the Dutch position regarding Serbia's cooperation with the ICTY, stressing that Netherlands will base its position on Brammertz's report.