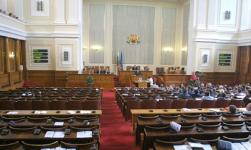 Bulgaria's Parliament gave preliminary approval to 2010's budget that assumes a two per cent economic contraction, without much debate.
In a late session Tuesday, the 240-seat assembly in Sofia voted 135 in favour of passing the budget after its first reading. Delegates from the ruling coalition supported the bill, while Socialist Party delegates opposed it.
The budget foresees a deficit of 0.7 per cent of GDP in 2010 and assumes that unemployment will remain at 11.4 per cent.
The government called it a budget that reflects the hard times the country finds itself in, and said it aims to help the economy recover from its global financial crisis and provide incentives for businesses without forgoing social protection.
Trade unionists and Socialist Party parliamentarians said it was a budget passed by a government that is obviously in "panic" and called it a budget for "economic misery".