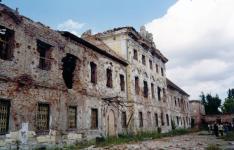 On Tuesday evening, residents and staff of the Vukovar hospital lit candles in front of the monument outside the hospital which stands to honor the memory of the civilians and soldiers killed by Yugoslav Peoples' Army, JNA and Serb paramilitary forces on 18 November, 1991.
According to hospital data, 1,624 people, including 12 children, were killed in the attacks on the city, which started on 25 August and ended on 18 November 1991 with the city's fall into the hands of the besieging forces.
A total of 1,219 people, including 30 children, were wounded in the attacks.
A total of 3,470 wounded people passed through the Vukovar Hospital during the siege of the city, and around 2,500 surgeries were performed during that time. Two days after the fall of the city, on 20 November 1991, at least 261 people were taken from the hospital, of whom 200 were killed at the Ovcara farm outside the city and the rest are still unaccounted for.
Candles were lit and a prayer was said for Croatian soldiers and civilians killed in Vukovar in front of a chapel on a local dirt road known as the Maize Route.
The Maize Route was the only open route between Vukovar and Bogdanovci which was used by Croatian soldiers coming to help defend the city. It was also the route via which Croatian soldiers and civilians left the city after its fall.
Earlier today, pupils from the city's primary schools joined in commemorative events by posting peace messages on the fence outside the community centre in downtown Vukovar.
The Croatian parliament has proclaimed 18 November Vukovar Remembrance Day to commemorate the day when the city's defence lines were broken after a three-month siege.
The programme of Vukovar Remembrance Day, which this year is held under the slogan "Vukovar is yesterday, today and tomorrow", will start on Wednesday morning in front of the city hospital, from where participants in the commemoration will go in a procession through the streets to the Homeland War Victims' Memorial Cemetery, where a number of state and other delegations will lay wreaths and light candles.