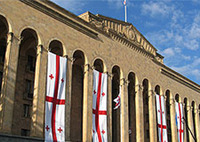 Georgian Presidential Administration Spokesman Ivan Noniashvili was appointed Georgia's new ambassador to Azerbaijan today. The Georgian parliament supported Noniashvili's candidacy with 84 votes.
After receiving parliament's approval, Noniashvili will replace Nikoloz Natbiladze, who has already been appointed Georgia's ambassador to Spain.
Since 2006, Noniashvili headed the Georgian Presidential Administration's Press Service. He speaks Russian, English and Turkish. He holds the rank of civilian adviser.