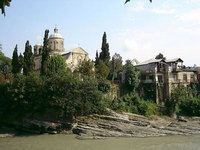 The next round of Georgian-South Ossetian negotiations to prevent tensions in the Caucasus failed. The meeting originally scheduled for Nov. 19 was canceled by the South Ossetian side, Georgian officials reported. 
South Ossetia refused to participate in negotiations.
Georgia intends to put forward the question of the release of four teenagers detained in South Ossetia Nov. 4. They are charged with illegally crossing the border and possessing explosives. They were arrested and given two-months temporary imprisonment.
South Ossetian representatives stated that they have ceased their participation in a working group on preventing and responding to incidents in the conflict zone. The group was established in the framework of the Geneva negotiations on Caucasus security issues.
They motivated their decision by the alleged disappearance South Ossetia citizens earlier this year.
Meetings in the conflict regions are held with the mediation of the EU, OSCE, and the U.N.