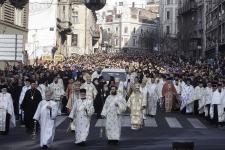 The head of the Serbian Orthodox Church, Patriarch Pavle, was laid to rest Thursday afternoon at the monastery in the Belgrade suburb of Rakovica.
The funeral service at the monastery's cemetery was served by Ecumenical Patriarch Bartholomew I and Concierge of the Throne of the Serbian Patriarch, Metropolitan Amfilohije.
Several thousands gathered outside the monastery yard as they could not enter the crowded monastery grounds. The funeral has passed without media coverage but in presence of top state and Church officials.
Patriarch Pavle passed away Sunday morning at the age of 95. His body was then carried and displayed in an open coffin at Belgrade's Cathedral. The Serbian government proclaimed on Sunday three days of mourning during which a large number of people waited in long lines in front of the Belgrade's church to pay their last respects to the patriarch.
Orthodox Christian believers started gathering to attend the funeral on Thursday morning in Belgrade after the Holy Liturgy had been served by Ecumenical Patriarch Bartholomew I at the Belgrade's Cathedral Church. A funeral procession then led to the St Sava Memorial-Church on Vracar where the funeral service was held at 11am.
"Patriarch Pavle judged no one, he only reasoned, respecting the freedom of everyone, and without yielding to his own, or other people's passions and self-will. He was a burden to no one and all that he had, he gave away in a natural, modest manner, without asking for anything in return," Amfilohije said during the ceremony in St Sava Temple.
Patriarch Bartholomew said that Patriarch Pavle was a theologian with a wide knowledge, a compassionate, conciliatory man of open horizons, who felt in touch with contemporary reality.
"Serb people start crying, start bitterly lamenting and expressing your sorrow, as he deserves," he said.
The ceremonies were attended by: Serbian President Boris Tadic, Prime Minister Mirko Cvetkovic and Parliament Speaker Slavica Djukic-Dejanovic, former Serbian Prime Minister Vojislav Kostunica, Prime Minister of Republika Srpska Milorad Dodik, Belgrade Mayor Dragan Djilas, the Karadjordjevic royal family, Montenegrin President Filip Vujanovic and his Macedonian counterpart Gjorgje Ivanov, Greek Acting FM Dimitris Drucas and Bulgarian Deputy PM Cvetan Cvetanov, along with numerous religious and diplomatic representatives