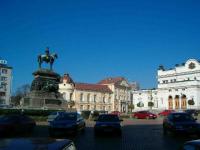 Iordanka Fandakova was officially sworn in Monday as Sofia's first female mayor.
The ceremony took place during a special meeting of the city's Municipal Council, where Fandakova received the official support of all municipal councilmen.
In her address, the new Mayor vowed to make Sofia a true European city, finish the construction of the subway, continue to build more parking space and bike paths. She also promised to take good care of the green spaces, the lighting of neighborhood streets and provide adequate day care facilities to fulfill the families' needs.
Separately she has also promised to address the issue of Sofia's hundreds of stray dogs.
On his part, Bulgaria's Deputy Prime Minister and Interior Minister, Tsvetan Tsvetanov, said the government would make all possible efforts to finance the major city projects.
The municipal councilmen from the opposition Bulgarian Socialist Party expressed their support for the new mayor, and added they would remain a dignified opposition.