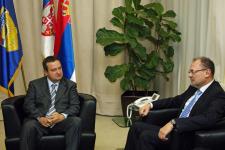 European Parliament rapporteur for Serbia Jelko Kacin said that it is unrealistic for Serbia to apply for EU candidacy by the year's end.
After talks late Sunday with Serbian Interior Minister Ivica Dacic, Kacin said that candidacy for membership is a game unlike poker that has clear rules by which one gains the trust of all 27 member states, EU institutions, and other present and future candidate countries.
"Serbia is moving step by step, faster and faster, but it is not possible to skip several steps which are needed for Serbia," Tanjug news agency quoted Kacin as saying.
He said that it is not the goal of Serbia only to submit a demand for EU candidacy, but to receive a positive answer from the EU. It is up to the Serbian government now to decide whether it will submit its application for candidacy.
"I was not of the opinion that the government had made that decision," the rapporteur said, adding that it is important for Serbia to make convincing steps in cooperation with the Hague Tribunal which would lead to an unfreezing of the Interim Trade Agreement.
The trade pact is part of the Stabilisation and Association Agreement, SAA, signed last spring. It was immediately suspended due to the Netherlands' strong stance that the deal cannot be unblocked before war crimes fugitives Ratko Mladic and Goran Hadzic are delivered to the International Criminal Tribunal for the former Yugoslavia, ICTY.
Once Serbia makes convincing steps in the cooperation with the ICTY, the process of the ratification of the SAA would begin and the European Parliament would confirm afterwards in its 2010 calendar the period for which this question would be discussed, he added.
According to Fonet news agency, Serbian Deputy Prime Minister Bozidar Djelic refused to comment Kacin's statements noting that what he will write in his report is the only relevant thing.
"We will closely monitor and require that only facts, not stereotypes and some other irrelevant things, find its place in the official document of European Parliament," Fonet agency quoted Djelic as saying.