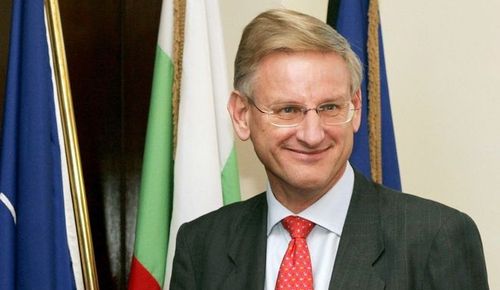 Enlarging the European Union to bring in further countries from South Eastern Europe will mean 100 million new EU citizens and will "not be a quick or simple process", Carl Bildt, foreign minister of Sweden, told the European Parliament on November 25 2009.
 
Sweden currently holds the presidency of the European Union.
 
"Our ambition is to help all the countries of the Western Balkans move forward in the process. And I hope that we will be able to see some progress for all of them by the end of the year," Bildt said, in a brief report that also included comments on the progress of Turkey and Iceland.
 
Bildt said that a decision on visa liberalisation for citizens of Serbia, Montenegro and Macedonia who want to travel to the EU is expected on December 19 2009.
 
"This is a large and important step forward," Bildt said.
 
When it comes to Croatia, the accession process is moving forward now that the dispute with Slovenia is no longer obstructing progress.
 
As for Macedonia, "I hope that the Council will be able to report concrete steps forward in the country's accession process in December," Bildt said.
 
On Turkey, Bildt said that the country's new initiative on Kurdish rights was a major step forward.
 
"This initiative from the government is very bold and very important. But the initiative has not been concluded yet. It is the subject of an intense and, to some degree, bitter domestic political debate, with parts of the opposition very strongly opposed to increased rights for the Kurds."
 
European Enlargement Commissioner Rehn said that Turkey had a long way to go before it could become a member of the EU.
 
"Despite the reforms that have been carried out, we cannot ignore the Cyprus issue and the Ankara Protocol," Rehn said.
 
"Enlargement is the best method we have for driving forward reform work and improving countries' fundamental rights," he said.
 
During 2009, EU membership applications have been received from Montenegro, Albania and Iceland.
 
Bildt said that the applications from Montenegro and Albania had been forwarded to the European Commission "and I expect we will be able to hear its view in a year or so".
 
"With its thousand years of democratic tradition and its membership of the EU's internal market through the EEA, it is clear that Iceland is already well on the way to membership," Bildt said.
 
Responding to a statement by an MEP who said that it was countries with weak economies that wanted to join the EU – when Iceland's economy was strong, the country did not want to be a member of the EU, but when the economy became weaker it became interested – Bildt said: "This shows that EU membership gives better opportunities for economic development".
 
"Countries that have had poor economic development see EU membership as a way to better economic development. So integration works as an anchor for economic policy and that is a good thing," Bildt said.