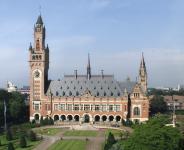 The International Court of Justice, ICJ, will this Tuesday begin hearing Serbia's challenge against Kosovo's unilateral declaration of independence.
Both Serbia and Kosovo voice optimism about the outcome, claiming they will present strong evidence to support their positions.
"We have reason to believe that the court will base its opinion solely on legal merits and will make a decision that will be in line with what we represent," said Serbian Foreign Minister Vuk Jeremic. "That is, that the unilateral proclamation of independence by the temporary institutions on February 17, 2008 was an ethnically motivated effort of secession which represents a violation of international law," he added.
His Kosovo counterpart Skender Hyseni told the daily Express that Kosovo's case is water tight. "We will be presenting strong arguments for the defense of Kosovo's right to be an independent and sovereign state, and for the defense of the political will of the people of Kosovo for statehood," the daily quoted Hyseni as saying.
After Kosovo's ethnic Albanians declared unilateral independence, Serbia, who bitterly opposes the country's independence, took the case to the ICJ.
The Court will hold an open discussion on the issue between 1 to 11 December. The judges are supposed to deliver their opinion a few months after.
The outcome of the case may well impact the speed at which more countries recognise Kosovo's independence. Sixty three countries have so far recognised the country.
However, in a recent interview with Russian news agency RIA Novosti, the ICJ President Hisashi Owada said that the court will not present unambiguous answer.
"It will be necessary to read the answer thoroughly, since the judges can have different opinions," the agency quoted Owada as saying. He explained that the court's conclusion would be 30 pages-long, and that the document would "simply have to be studied".
There is no deadline for the ICJ to issue its ruling. Jeremic has said that the decision is likely to come in the first half of next year.