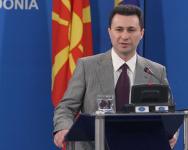 Prime Minister Nikola Gruevski, sent a letter to the heads of government of EU member states seeking their support for Macedonia's EU accession bid.
In the letter announced on Sunday the Prime Minister expressed hope that EU member states, meeting under the auspices of the EU Council on 7 December, "will affirm that Macedonia is ready to kick-start this historic process for the country and the region by setting a date for start of membership talks."
Arguing that such a date would give an additional incentive for internal reforms, Gruevski pledged that Skopje will stay committed to nurturing good neighborly relations.
Last week the European Parliament adopted a resolution in favour of EU enlargement, which urged the Council to abide by the European Commission recommendation and give Macedonia a starting date for EU talks.
The only obstacle that now separates Skopje from the date is the possibility that Greece will object to giving Macedonia a start date.
"With respect to the bilateral name dispute with Greece, I would like to assure you that UN-backed name talks will be actively and constructively resumed in order a mutually acceptable solution to be found", reads Gruevski's letter.
In Friday's meeting with his Greek counterpart, media reported that Gruevski failed to make any progress on resolving the 18-year old name dispute.
Last year, Athens blocked Skopje's NATO invitation pending a solution to the row. Athens argues that Skopje's official name, Republic of Macedonia, implicates territorial claims towards Greece's own northern province that is also called Macedonia. So far the UN sponsored bilateral talks have failed to deliver any breakthrough.
The announced meeting between Gruevski and the head of the European Commission, Jose Manuel Barroso set for this week is seen as the last chance for some progress ahead of the EU Council session.
Meanwhile media speculate the Council may remove the Commission's recommendation on Macedonia from its agency in order to avoid the unpleasantness of a Greek blockade.