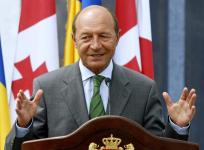 Romania's minority parties have thrown their support behind Mircea Geoana, further boosting the Social Democratic Party's candidate in the forthcoming presidential electoral run-off.
Geoana on Saturday signed a political agreement with leader of the representatives of the national minorities in Romania's Parliament Varujan Pambuccian for his support.
"Today I have signed, with parliamentary leader of the national minorities Varujan Pambuccian, an agreement meant to ensure stability and normality in Romania," said Geoana.
The additional support comes after the presidential canidate, Crin Antonescu, who came third in the first round of presidential voting, pledged his support for Geoana, virtually assuring his victory over incument Traian Basescu.
Geoana is now portraying an image of himself as being the candidate who is best able to unify the fractious splits which precipitated the collapse of former Prime Minister Emil Boc's cabinet last month and has since prevented the formation of a new government.
A new government is key to the continuation of a International Monetary Fund-led rescue package the country needs to restore economic stability.
Commenting on this latest alliance, Geoana said support from national minorities is another step towards his "One Single Romania" project.