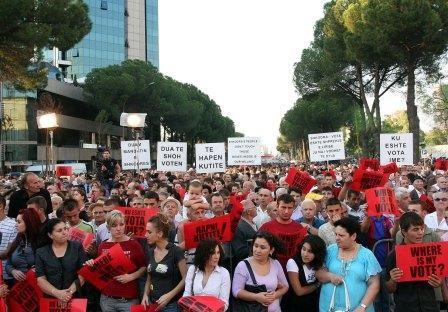 Albania's opposition Socialist Party is set to launch fresh protests Friday to demand either recount the vote in a controversial June election or hold another.
Socialist Party leader Edi Rama accused Prime Minister Sali Berisha of the Democratic Party of rigging the parliamentary elections.
The Socialists lost to PM Sali Berisha's Democrats in the tightest race ever, but have not accepted the result and refuse to enter parliament unless a number of ballot boxes, ruled irregular by election authorities, are opened. The Socialists claim the votes inside would give them victory overall.
The Socialists earlier gave the prime minister a 10-day deadline to recount the ballots cast in June elections or face snap polls. The Socialists, backed by other center-left and center-right opposition parties, decided late Thursday to proceed with protests after PM Berisha refused to comply with their demands.
Erion Velijaj, the leader of G99 party, said the first of a series of protests will be staged Friday in front of Albanian National Television building to demand resignation of its executive due to his anti-opposition editorial policy. The opposition blames the chief executive of state television of orchestrating editorial policy in favor of the ruling party.
Socialists' leader Edi Rama said the protests will roll out across the country under the motto "Open Ballot Boxes or Go".
PM Berisha, on the other hand, told TV Clan it would be illegal to open the ballot boxes and made it clear that there would be no recount of votes.
He added that he is not afraid of protests. Berisha's Democrats hold 70 seats in the 140-seat parliament, and the Socialists 66. The Democrats rule with support from four Socialist Movement seats.