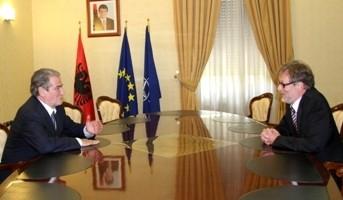 Albania on Wednesday took another formal step on the road to European Union membership by receiving a questionnaire on its readiness to join the bloc.
Lohan handed the document to Prime Minister Sali Berisha. "Replying to the questionnaire is a demanding task which requires strong commitment from the entire public administration", Lohan said.
In a press conference he held jointly with Berisha, Lohan appealed on all sides in Albania to start a dialogue in parliament and reach a "broad consensus" to implement difficult reforms.
"Today's handing over of the questionnaire marks an important milestone on Albania's European path, Albanian PM Sali Berisha said and invited the opposition leader Edi RAMa to celebrate the hading of EU membership questionnaire.