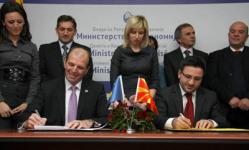 Macedonia and Kosovo's Ministers of Economy Fatmir Besimi and Ahmet Shala signed an agreement intended to boost economic cooperation.
The document should make cooperation between the two countries in the energy, infrastructure, transport, agriculture, construction, tourism, environment and other sectors much easier, the two ministers said at the signing ceremony in Skopje.
"Kosovo is a significant trade partner for Macedonia. The agreement, along with the one on free trade, presents a good opportunity for further development of the already excellent cooperation", Besimi said.
Shala stated that the agreement should enable barrier free cooperation between the people, particularly the businessmen of both countries.
He invited Macedonia businessmen to visit Kosovo and see for themselves what opportuinities are offered there.
Kosovo is one of the rare countries with whom Macedonia makes a trade surplus. Although there are no exact numbers, estimates say that Skopje annually exports some 200 million euros worth of goods to Kosovo, while importing some 80 million.
Macedonia exports mostly petroleum, oil derivatives, food and cigarettes to Kosovo.