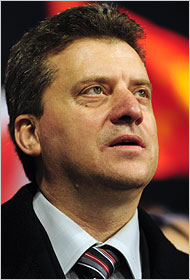 Today is really a significant day for Macedonia, for its citizens and for the European Union, said Macedonian President in his welcome speech at Gyueshevo border checkpoint.
In his words the Schengen barrier is falling apart. The spiritual barriers between us are also symbolically falling apart, he said.
"Our regions should also look at the European spirit. The communication between young people is very important because they can feel the European spirit and habits and to observe and establish European criteria. We should create something new for the coming generations," Gjorge Ivanov said further.
He thanked to his Bulgarian counterpart Georgi Parvanov for rendering significant importance to the event. Ivanov thanked Bulgaria that it has not imposed visa regime for Macedonians until the last moment before accessing the EU.
"We hope this liberalization of visa regime for the region starts a different period in positive direction where people will communicate, exchange ideas and will establish new friendships between Macedonia and Bulgaria," Ivanov added.
According to him this is a positive step, which gives positive energy not only to Macedonia but it will be also an example for other countries, which will open their borders in the future and will establish an open space.