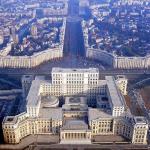 Romanian Parliament on Wednesday approved Emil Boc's centrist coalition government, with 276 votes in favour and 135 against.
"We have started reforms other politicians didn't dare to start. And we will continue this necessary process", Emil Boc said in a speech in front of the Parliament. In October, Boc lost a vote of no confidence.
The new cabinet is based on a coalition between the center-right Democratic Party, PLD, and the party of ethnic Hungarians in Romania, UDMR, with support from independent members of the parliament.
Prime Minister-designate Emil Boc on Sunday nominated a 15-member cabinet, whose main aim is to restore public confidence and to unblock an IMF bailout deal.
The key finance ministry portfolio has been handed to former minister Sebastian Vladescu, a technocrat and former member of a centrist coalition government in 2005-2007. Boc also retained another five ministers for his team, including Economy Minister Adriean Videanu and Justice Minister Catalin Predoiu.
UDMR has taken three ministries – health, culture and environment – in the future government, in addition to the position of deputy prime minister.
The new government faces one of its biggest challenges in the country's post-communist history, as Prime Minister Emil Boc will be tasked with bringing Romania out of its deep recession and speeding up preparations for Euro membership.