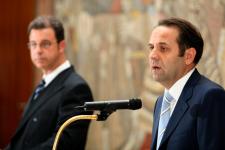 The Coordinator of Serbia's Action Team for locating and arresting Hague indictees, Rasim Ljajic, has repeated earlier warnings that he will resign if the number-one war crimes fugitive Ratko Mladic is not arrested by the end of this year.
Ljajic said he must bear responsibility for having said that the former commander of the Bosnian Serb army would be behind bars by the end of 2009.
"I cannot imagine myself in a month or two saying that they will be arrested by the end of 2010," he said of Mladic and the other war crimes fugitive, the former Croatian Serb leader, Goran Hadzic. "One must simply be ready to accept responsibility for what has been said," he said.
In September, Ljajic announced he would resign "if Ratko Mladic is not arrested and extradited to the Hague Tribunal by December 31". His confidence then in an imminent arrest was based on information about the actions being undertaken aimed at leading to Mladic's arrest, he said.
Mladic has been indicted by the International Criminal Tribunal for the former Yugoslavia, ICTY, for genocide committed during the 1992-95 war in Bosnia. Following the arrest of the former Bosnian Serb political leader, Radovan Karadzic, in July 2008, Mladic and Hadzic are the only fugitives still on the run.
Ljajic, however, added that this had been the most successful year in terms of cooperation with the Tribunal – which reports of the Chief UN War Crimes Prosecutor of the ICTY, Serge Brammertz, have confirmed.
Earlier this month, while presenting his report on Serbia's cooperation with the ICTY to the UN Security Council, Brammertz said Serbia had made "constant progress" in its efforts to cooperate with The Hague-based Tribunal, though the arrest of Mladic and Hadzic remained the key issue.
Ljajic said he would remain head of the National Council for Cooperation with the Tribunal, as this body deals with different tasks – documentation, archives and witnesses, and had enjoyed great success in cooperation with The Hague.
Asked whether the government would appoint a new coordinator of the Action Team, Ljajic said he doubted it. "Maybe someone from the team will take over the duty, but I certainly do not expect anyone else to be hired," Lajijc said.