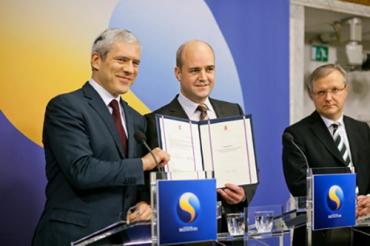 President Boris Tadić said in Stockholm on Tuesday that he expects Serbia to become a candidate for European Union membership next year.
At a reception organized in his honor by Swedish Foreign Minister Carl Bildt, Tadić said that Serbia will be a positive surprise to Europe in the coming year, and thanked Bildt and Sweden for the help in Serbia's European integration.
Tadić was in the Swedish capital yesterday to formally submit Serbia's candidate status application to the country currently presiding over the EU.
Bildt said that in the wider context of European relations, it is important that Serbia decided to apply for candidate status.
"The key elections in your country, first the presidential and then the parliamentary, were very successful. Your platform for European integration and reforms received a very clear majority."
"You also implemented these policies, including cooperation with the international war crimes tribunal. That is a key thing which cemented the road to today's candidacy application. Therefore, I congratulate you for what you have done in order for your country to progress," said he.