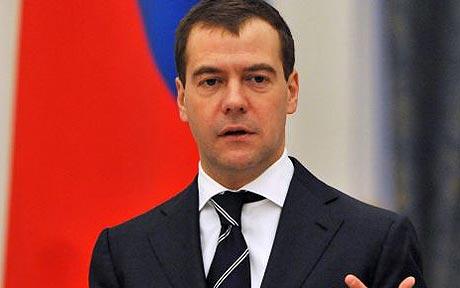 Russian President Dmitry Medvedev has wished his Ukrainian counterpart Viktor Yushchenko a Happy New Year, the Kremlin said on Wednesday.
"Constructive and mutually beneficial cooperation between our countries in the spirit of a centuries-old tradition of friendship responds to interests of both Russians and Ukrainians," Medvedev said in his message.
In August, Medvedev sent a message to Yushchenko blaming the Ukrainian president for a worsening of bilateral ties. He also announced he was holding off sending Russia's new ambassador to Ukraine over Kiev's anti-Russian policies.
Ties between Russia and Ukraine have been strained in recent years, as Ukraine's pro-Western leaders have sought to join NATO and the European Union. Moscow and Kiev have also been embroiled in bitter disputes over natural gas supplies.
Ukraine sees presidential elections on January 17. Pro-Russian candidate Viktor Yanukovych is leading in opinion polls, with some 30% of voters expected to support his candidacy. Prime Minister Yulia Tymoshenko is his closest rival, with around 15%. Yushchenko is struggling to make double figures.