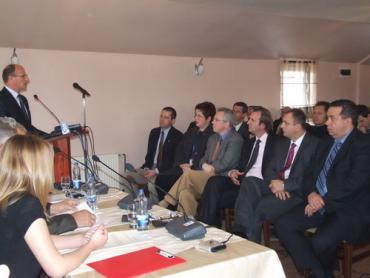 Goran Lazić of the Independent Liberal Party (SLS) was named the assembly speaker in Gračanica at the assembly's constitutive session.
Lazić receive 14 votes from officials elected during the local elections in Kosovo held on November 15, organized by the Kosovo Albanian government in Priština.
Ignored in the northern, Serb-dominated parts of the province, these elections saw some Serbs in the enclaves south of the Ibar River participate.
Yesterday in Gračanica, of 19 officials that make up the assembly, 15 attended the meeting – 12 of which were from SLS.
Priština's Local Self-administration Minister Sadri Ferati attended the ceremony and told Beta news agency that the holding of a constitutive assembly meeting in Gračanica is a "historical event for Kosovo".
"We expect that there will be conditions created for the repeat elections in Zvečan, Leposavić and Zubin Potok, so that citizens living there will also be able to create better living conditions for themselves," he said, referring to the northern towns.
Ferati reminded that elections will be held in the coming six months in "[Kosovska] Mitrovica and Parteš, near Gnjilane", and that the Kosovo government is "working on forming a preparation team that will organize the elections".
The Gračanica constitutive session was attended by officials of the U.S. and British embassies in Priština, as well as EULEX and Kosovo government officials.
However, since this Gračanica assembly does not have its own building, the session was held in a local restaurant.
The recently held local elections, the first organized by the Kosovo government according to the Ahtisaari plan, which Belgrade has rejected, created five new municipalities in which Serbs make up the majority population, of which Gračanica is one.
Gračanica is also home to the relocated Priština municipal assembly, whose councilors were elected in a vote organized by the Serbian government.