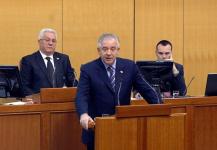 Former Prime Minister Ivo Sanader stunned Croatia on Sunday by announcing his return to politics, a move which some officials warned could bring down the coalition government led by his conservative party, the Croatian Democratic Union.
"The decision to retire from politics was completely wrong," Sanader told a hastily organised press conference in Zagreb on Sunday.
Sanader said his decision to re-enter politics, after his unexpected withdrawal last summer, was motivated by the poor showing of the Croatian Democratic Union's, HDZ, candidate Andrija Hebrang in presidential elections last week.
"I made this decision because in the first round, HDZ got the worst result since its founding in 1989," Sanader said.
"This result is greatly due to deficient party leadership," he added.
Hebrang won just 12 per cent of the vote, failing to reach the runoff which will be held on January 10 between Ivo Josipovic of the opposition Social Democrats and independent candidate and longtime mayor of Zagreb Milan Bandic.
Sanader unexpectedly resigned last summer as both Prime Minister and HDZ president, hand-picking his then deputy Jadranka Kosor to replace him in both positions. However, Sanader retained the ambiguous title of honorary party chairman.
Sanader said he now intends to play an active role in the party and is also considering the reactivation of his parliamentary post, which he had put on hold after his appointment as prime minister in 2003.
This could put him at odds with Kosor, who was reportedly unaware of his plan to re-enter politics and uniformed of his intention to hold the press conference. HDZ's leadership called a meeting to discuss the development Monday morning.
Other members of the four-party coalition government were also not informed.
The Croatian Social Liberal Party, HSLS, voiced its support for Kosor and HDZ policies under her leadership.
"If Sanader attempts to influence the government's decisions or the parliamentary majority, we would withdraw from the coalition," HSLS president Darinko Kosor, told media.
"We fully support Kosor," the president of Croatian Farmers Party, HSS, Josip Friscic said.
The vice president of the Independent Democratic Serb Party, SDSS, Milorad Pupovac, slammed Sanader's decision saying it would be better "for the government and for Croatia if he were not returning to politics."
"We see this….as an attempt to destabilise the government and political scene in Croatia in order to stop measures against corruption and against the economic crisis which are being implemented right now," Pupovac told local media.
While Sanader's press conference was attended by some 15 HDZ MPs, including the parliament speaker Luka Bebic, Kosor appeared to enjoy the support of most party members.
At least three MPs who attended the press conference held at HDZ headquarters later issued statements to say that they were "unaware of the details" of the event to which they had been invited in their official capacity. These MPs voiced their full support of Kosor and said they did not want "to be manipulated".
In recent months, the Croatian government has faced numerous high-profile corruption scandals which the media linked with Sanader and some other HDZ members.
Kosor increasingly appeared to distance herself from Sanader and encouraged police and the justice ministry to investigate the activities of the HDZ's powerful former inner circle.
Some media alleged that Sanader's abrupt exit from politics last July was aimed at avoiding the corruption scandals, but he denied the allegations on Sunday saying he stepped down because he was "not ready to sell Croatia's territory" for the sake of European Union membership.
At the time of Sanader's resignation, Croatia's membership talks with the EU stalled due to a veto imposed by neighboring Slovenia over a long standing border dispute between the two countries.
However, Kosor and her Slovenian counterpart Borut Pahor resolved the dispute last fall by agreeing on international arbitration.
"Sanader shocked Croatia today and the political scene is shaken, but I believe that he made the wrong move," news editor of Zagreb's Radio 101 Silvija Separovic told Balkan Insight.
"He is supported by only a few inter-party allies, but in the wider political arena he faces what I would call a coalition against him and his policies," she added.