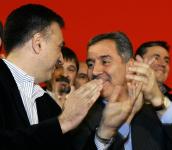 Montenegrin top officials disagree on the timing of when the country should establish diplomatic links with Kosovo, with some arguing that a swift exchange of ambassadros may hinder Podgorica's relations with Serbia
Montenegro recognised Kosovo's independence on 9 October, 2008, one day after the UN General Assembly accepted Serbia's draft resolution to place the case of Kosovo's unilaterally proclaimed independence to the International Court of Justice, ICJ. Serbia's Ambassador to Podgorica Zoran Lutovac has asked Montenegro to postpone establishing diplomatic relations with Kosovo until the ICJ reaches a conclusion, expected in a few months time.
Parliamentary Speaker in Montenegro Ranko Krivokapic says the ICJ case is a bi-lateral issue, and that Montenegro "cannot wait long" before establishing diplomatic relations with Pristina, Tanjug news agency reports.
Meanwhile, Montengrin media have speculated that Azem Vllasi will be the first Kosovo ambassador to Montenengro.
Montenegrin President Filip Vujanovic has said that he will name an ambassador to Pristina once the Montenegrin minority in Kosovo is recognised and its authentic representation in Kosovo's parliament is secured.
"I am confident that this issue should be resolved before the exchange of ambassadors, as it is fair to our community in Kosovo," daily Pobjeda quoted Vujanovic as saying for the New Year's edition of the newspaper.
The country's Prime Minister Milo Djukanovic has said that establishing diplomatic relations between the two countries is the next step, without specifying a date on which it will happen. "When a country is recognised, then the next logical step is to initiate diplomatic relations. There is no speculation there. That should not be a surprise for anyone," he said.
Montenegrin Deputy Prime Minister Svetozar Marovic said earlier in December that Montenegro should not establish diplomatic relations with Kosovo, until the ICJ makes a decision on whether Pristina's unilaterally proclaimed independence went against international law.
"The Government of Montenegro will take into serious consideration all the circumstances before deciding on the eventual establishment of diplomatic relations with Pristina. Of this I am sure. As I said, I see no obstacles for it, nor the reasons for the rush," said Marovic.