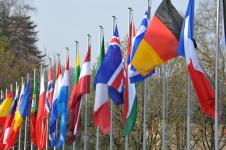 A group of 200 academics, writers and journalists in Serbia has asked the country's parliament to call a referendum on whether Serbia should join NATO.
Speaking at a press conference, Serbian Academy member Matija Beckovic called for the referendum stressing that Serbia is now a neutral country which suffered "criminal bombing and destruction" during NATO's bombing in 1999.
"The people of Serbia are the only ones who can decide on their future. Such decisions include the issue of Serbia's membership in NATO, on which a legitimate response can be given only in a democratic referendum," the document reads.
Serbia became a Partnership for Peace, PfP, member in December 2006, signing a cooperation agreement with NATO in which democratic, institutional and defence reforms were key. Prior to becoming a PfP member, Serbia engaged in limited security and defence reform cooperation with NATO, where military officers and civilians were allowed to participate in PfP courses.
A day after NATO accepted Albania and Croatia into the Alliance in April 2008, Serbia unveiled drafts of national security and defence strategies, in which it maintains its proclaimed military neutrality.
The President of the Centre for National Strategy in Belgrade, Svetozar Stojanovic, said it is necessary to launch a public hearing on the issue since statements made by some officials on Serbia's possible NATO membership cause confusion.
"Membership of the Partnership for Peace is quite enough for us. If we became members of NATO, we would not be able to maintain close ties with very large and important group of non-aligned countries; and we would not preserve the reputation of the country, which principally participates in United Nations peace missions," Stojanovic said.
The document also says that "remaining true to itself and its tradition, military neutral Serbia is no exception."
The Serbian government has on several occasion said that it will never join NATO since it claims Kosovo's independence, fiercely opposed by Belgrade, "is the product of NATO, that has created a fake state with its supreme and absolute power."
In December, NATO's Secretary General Anders Fogh Rasmussen said it is up to Serbs to decide whether Alliance membership would benefit the country.