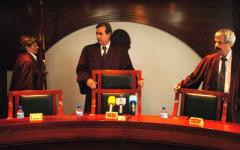 The main opposition party claims that the government is secretly preparing constitutional changes that should impede the free work of the constitutional court.
Prime Minister and ruling VMRO DPMNE head, Nikola Gruevski wants to deal with the judges who constantly reassess and annul his laws, an opposition legislator from the ranks of the Social Democrats, SDSM, Vlado Buckovski said.
"Gruevski exercises pressure against the court and damages the state's image. This is a well thought out political move whose goal is to change the constitution this year in order to set different rules for the court's functioning," Buckovski said.
VMRO DPMNE rebuffed such claims as false while Justice Minister Mihajlo Manevski said he would restrain from commenting. However he noted that Gruevski's actions "had ground".
Gruevski has on several occasions publicly attacked some of the court's decisions as "catastrophic" and has accused the court of being politically influenced.
"As long as the constitutional court is influenced by parties there will be problems and damages to the state… Almost two third of it is in some way instrumentialised by SDSM," the Prime Minister said.
So far the court has annulled or temporarily banned several key law amendments instigated by the current government, on the grounds that they go against the constitution.
Among others, it annulled the a re-organisation of Skopje's Clinical Centre, and an amendment that banned doctors in the public healthcare from practicing outside. The court also banned religious classes in high schools saying such classes would go against the secular nature of the state. It also banned the usage of so called "patriotic receipts" that displayed the amount of goods purchased that came from Macedonia.
The latest accusations from Gruevski came after the court put a temporary ban on the government's decision to give police early retirement, noting that the amendment does not offer equal treatment to all, which is one of the principles of the constitution.
This is not the first time that Gruevski has attacked the court. Last year he laid out similar accusations and sent a letter to the court saying it is impeding the government's work. The Macedonian Helsinki Committee for Human Rights strongly criticised Gruevski for politically interfering in the court's work.