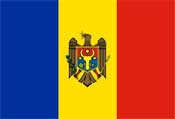 Moldova's acting president, at the risk of touching off a damaging row, is pressing for the national language to be renamed Romanian rather than Moldovan.
The ex-Soviet republic, independent since 1991, speaks a language virtually identical to that in Romania and much of its territory belonged to its larger neighbour before World War Two.
But Moldovan has been retained as the name of the official language in the constitution, mainly to reinforce statehood and underscore the difference between Moldova and Romania, the EU member with which it has had bumpy relations over the years.
Mihai Ghimpu, acting president in a four-party Western-leaning coalition called the Alliance for European Integration, said a new constitution being drafted would change the language's name to Romanian.
"We must be brave and make quite clear our identicalness [with Romanians] and the language that we speak. I cannot carry on with an old policy – a Stalinist and false one," said Ghimpu who heads the centre-right Liberal party in the coalition.
But one of his main coalition allies, Marian Lupu, declared: "None of the members of the ruling Alliance gave Ghimpu the right to talk about the issue of changing the articles of the constitution relating to the name of the state language."
A referendum would be the best way of settling the language issue, he said.
Moldova, Europe's poorest country, is in the grip of huge political uncertainty after the powerful communist bloc in early December torpedoed the coalition's plans to get parliament to elect Lupu as state president.
The communists, who lost an eight-year grip on power to the Alliance in an election last July, appear to be hoping to regain power if Ghimpu calls an early election later this year.
Ghimpu, a fierce anti-communist, told Reuters changing the constitution offered a way out of the stalemate and it would have to be put to a referendum by 16 June.
"If it is not supported by the people, I am obliged to dissolve parliament. But I am sure that we will receive the support of our citizens," he said.
On the language issue, he said: "We are neighbours with Romania and brothers. We each have a different home but we are brothers and I am not happy when brothers fight." He was referring to a period of bad relations with Bucharest during the rule of communist former President Vladimir Voronin.
Anti-government riots in Moldova last April when Voronin was in power inflamed a long-standing diplomatic row with Romania. Moldova then accused Romania of stoking the violence, threw out its ambassador and closed border crossings.
Bucharest remains Moldova's patron, however, in its bid to forge closer relations with the European Union and one day possibly join the bloc.