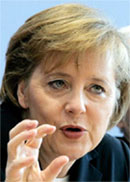 German Chancellor Angela Merkel said that she does not have much hope for a quick European Union accession for Bosnia-Herzegovina.
After meeting with Bosnia-Herzegovina Presidency head Željko Komšić in Berlin, she said that "a very long road" is ahead of Bosnia towards EU membership.
Without changes to the Constitution, which would bring political efficiency to the country, there is no direct European perspective, Merkel said. 
She also said that EU visa liberalization for Bosnia is not on the agenda currently, even though Serbians, Macedonians and Montenegrins were recently granted visa-free travel.
Merkel called on all sides in Bosnia to show the political will for solving problems and stressed that "co-existence between different ethnic groups has no alternative."
Merkel added that Germany will "always help Bosnia when needed".
She said that it is time to implement stability in Bosnia as well.
"Germany will be Bosnia-Herzegovina's partner, whenever it wants to be. We cannot come uninvited, but if we are needed, they can always expect help from us," Merkel said.
"We went through complicated periods in our history as well. With such experiences, we can help in finding solution to these problems," she said.
Merkel and Komšić discussed current political topics and economic cooperation, especially opportunities in the energy sector which Bosnian can offer to Germany.
Komšić said that he hopes that the visit will be "a beginning of a new series of meeting on the highest level of the two countries."
"The understanding a support from Germany on Bosnia-Herzegovina's Euro-Atlantic road is a very important and significant thing. It believe that it can be key in some instances as well," Komšić said.
Komšić's visit was the first from a senior Bosnian official to Berlin in almost nine years.